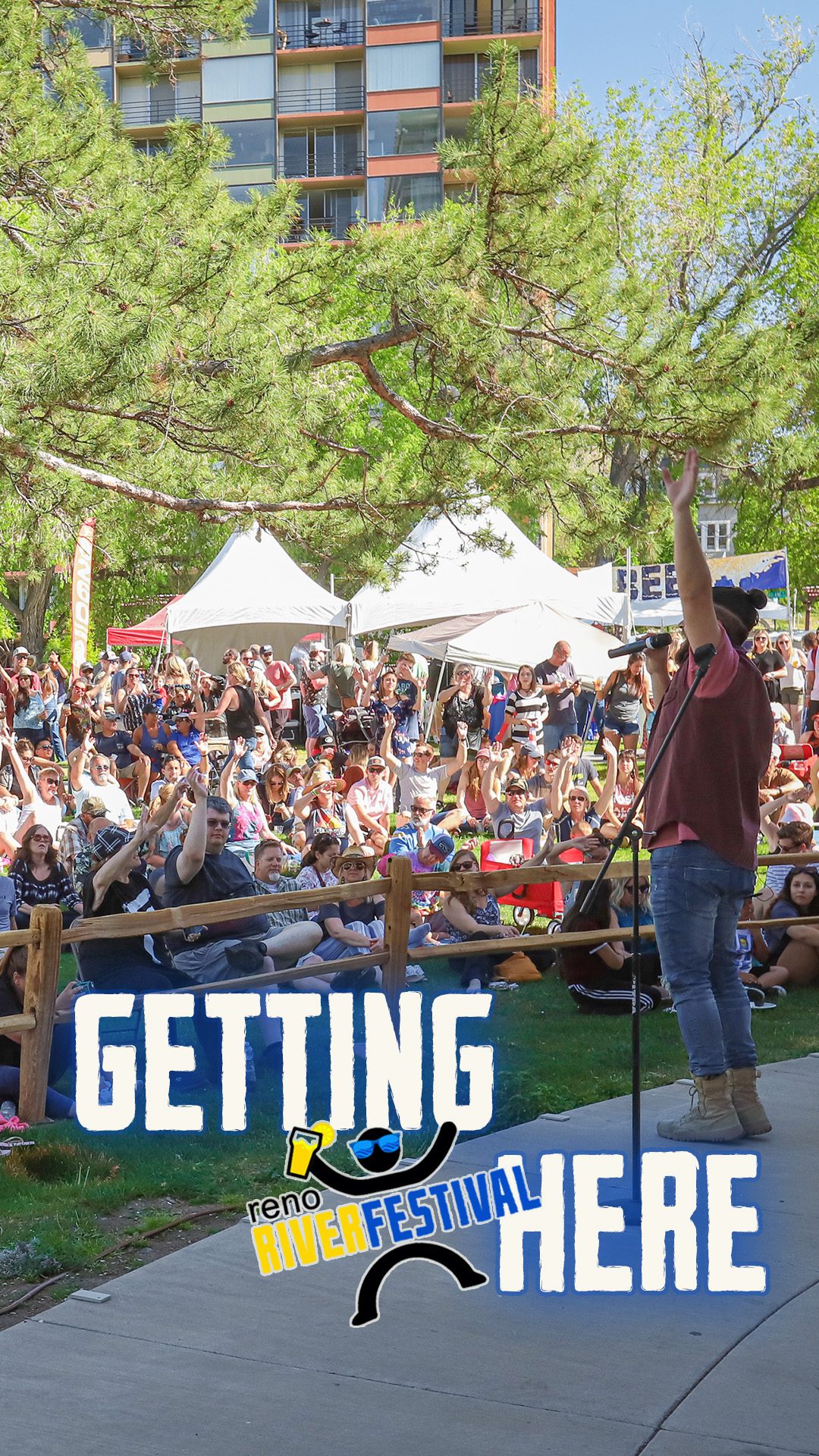 OVERFLOWING TO 3 DAYS!
JUNE 9-11, 2023
DIRECTIONS TO THE
RENO RIVER FESTIVAL
PARKING ON THE NORTH SIDE

There are several parking options for people attending the Reno River Festival. One option is finding a spot on the street. However, during the event finding a parking spot on the street near Wingfield Park can be difficult. There are several parking garages in downtown Reno within a short walking distance to Wingfield Park and the Reno River Festival. If you're going to drive, grabbing a spot in a nearby parking garage is your best bet.  Parking garages include:
The Parking Gallery
135 N Sierra St ·
Eldorado Parking Garage
325 N Sierra St
Circus Circus Parking Garage #1
516 West St
Circus Circus Parking Garage #2
650 N Sierra St
Silver Legacy Parking Garage
411N N Sierra St
Cal Neva Parking Stadium
100-182 N Center St
PARKING ON THE SOUTH SIDE
There are several open parking lots and spaces on the weekend south of Wingfield Park.  Please follow signs and be mindful of any fees that apply.
RIDE SHARE
If you don't want to deal with the hassle of looking for a parking spot, taking a ride share service to downtown Reno is a good option. The roads around Wingfield Park will be blocked off for the event, so punching in Wingfield Park on your app could have your driver going around in circles trying to find a place to drop you off. To avoid that, tell your driver you're going to the corner of 1st Street and Ralston Street on the North side or the corner of Island and Arlington on the South Side (or Barbara Bennett Park). This will put you near one of the main entrances to River Fest, and you won't have to worry about getting in the way of traffic.
BIKE
We encourage everyone to ride their bike to the festival! The Kiwanis Bike Program is hosting a safe and secure bike valet in the heart of the Reno River Festival. The donation optional bike valet is open Saturday, May 7th from 10am – 6pm and on Sunday, May 8th from 9am to 6pm.
POWERED BY
GET INVOLVED!
Keep Us Going Strong!
These all-inclusive packages provide branding, tickets, event registration, food, drink, and swag.